A Book on the Beach is Worth Two on the Shelf
I'm getting ready for a glorious trip to the beach. Days of nothing but laying in the sun, swimming in the Gulf of Mexico, sipping on tropical drinks, and, of course, tons of reading!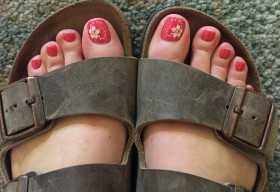 While my toes are ready for vacation, I still need to get a few books queued up on my Kindle (seriously, e-readers make travel so easy!).
I always put A LOT of thought into what books I bring on vacations, probably more than what clothes and footwear I'm going to pack. There needs to be a variety of genres, nothing too dire, and usually titles I've been excited to read for a while.
Here are the books I'm packing for my upcoming trip:
Me Before You by JoJo Moyes — I've heard excellent things about the book and after watching the movie trailer, I know it's right up my alley. It sounds funny, dramatic, heartbreaking, and thought provoking, all components of an excellent beach read!
The Royal We by Heather Cocks and Jessica Morgan — Nothing says beach read like a story based on the royal couple, Will and Kate. I can't wait to indulge in this fictionalized account of their lives. Humor, romance, royal drama?! Sign me up!
A Darker Shade of Magic by V.E. Schwab — I've been meaning to read this book for ages! It's received fabulous reviews and sounds like the *perfect* fantasy to sweep me away into a world full of magic and parallel versions of London.
Is Everyone Hanging Out Without Me? by Mindy Kaling — I'm always on the lookout for books that can make me laugh, and I have a hunch this book will do exactly that. Plus, I love The Office and can't wait to read about the happenings on set!
Sad Cypress by Agatha Christie — I've slowly been working my way through all of Agatha Christie's mysteries (not an easy feat since she was crazy prolific!) and this is next on my list. I especially love reading the ones set in foreign locations with a small group of travel companions, i.e., suspects!
What kinds of books do you enjoy reading on vacation? Are there any solid beach reads I should add to my list?
What I'm reading: Full Body Burden by Kristen Iversen (book club pick!)
What I'm listening to: Walking on a Dream — Empire of the Sun