Post Writing Conference Buzz
I attended the Rocky Mountain Fiction Writers' Colorado Gold Conference this past weekend and, jeez, my head's still spinning! The conference was AMAZING, the best one yet, jam packed full of sessions on things like conflict and verbs, critique workshops, and pitching opportunities. But more important than all that were the wonderful people in attendance.
At past writing conferences, I've felt a bit like this socially awkward penguin (currently my favorite meme). But this conference was different. I recognized so many friendly faces from previous writing events, who were super fun to catch up with, and I felt infinitely more comfortable introducing myself to new writing friends. After all, we're all word-nerds with a shared passion for story telling.
The conference was a whirlwind of memorable moments that left me feeling inspired to finish edits on my mystery novel. Here are a few of my highlights:
Angie Hodapp's Verbs, Verbs, Verbs Session: This session was my favorite, probably because it combined two of my favorite things, math and writing. I loved Angie's verb analysis on sections of popular bestsellers. It was fascinating to compare scenes with passive verbs versus active verbs. In short, it seems that using a higher proportion of passive verbs makes a scene feel more somber, more mellow, but using too many action verbs can make a scene feel overly dramatic. Interestingly, the sweet spot *might* be something like 60-65% active verbs versus 35-40% passive verbs. I can't wait to analyze a section of my own novel!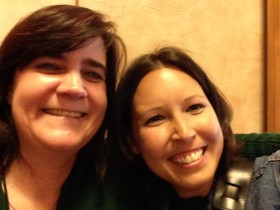 Meeting Susan Spann: I got to meet one of my *favorite* mystery authors! For those who don't know, Susan writes the Shinobi Mystery Series, which follow a ninja assassin who solves murders in ancient Kyoto. Yeah, they're badass. Anyway, I signed up for a pitch coaching session with Susan (which I highly recommend!!!) and, fangirl that I am, started by gushing all over her. But she was so nice! And completely brilliant. In practically no time, she perfected my pitch for my mystery novel. I am so excited, and cannot wait to query with this pitch! Also, check out our selfie.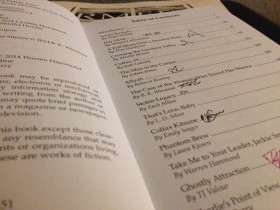 Crossing Colfax Anthology: The writing conference doubled as a soft release for my first ever publication and, holy cow, was it surreal! It was amazing to see attendees walking around with copies of the book and even *gulp* asking for autographs. But my absolute favorite part was getting to meet my fellow anthologists (gotta love that word — it makes us sound like a band of adventurers), all of whom are crazy talented. Check out all the signatures I managed to get!
What were your favorite parts about the RMFW Conference? What's the coolest thing you learned? Did you leave feeling as inspired as I did?
What I'm reading: Throne of Glass by Sarah J. Maas (so far, a fun cross between Graceling and Hunger Games)
What I'm listening to: Don't — Ed Sheeran (anyone else intrigued that he pulled a Taylor Swift??)