There And Back Again — The Setting Conundrum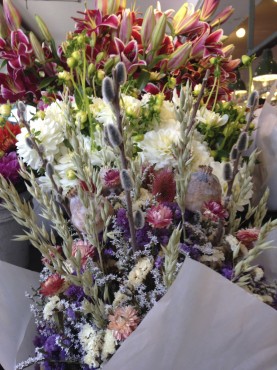 I had an amazing vacation in Seattle last week. It was wonderful to tour the city, enjoy the delicious seafood, and catch up on some reading. But it wasn't all fun and games.
Seattle also happens to be where my cozy mystery takes place. While I was there, I took notes on things I wanted to add or tweak in my story, those special details that can really make a setting pop.
I usually use tools like TripAdvisor or Google Street View to research unfamiliar locales, but let's face it, there are some things you can only glean from actually visiting a place.
Here are a few gems I discovered:
Flowers — Pike Place Market might be notorious for 'flying' fish, but what really stood out to me were the gorgeous flowers. Huge bouquets wrapped in parchment paper, composed of deep red snapdragons, pink tiger lilies, lime green hollyhocks, etc. In my story, like Mrs. Dalloway, I think my main character, Lucy, may decide to buy herself flowers.
The Hills — The hills in Seattle were crazy steep, like 20 percent gradient steep. Hoofing it up these hills was exhausting, and going down slightly terrifying. With all the walking I have my characters do, zipping all over the city to investigate, they really ought to be huffing and puffing more. Especially since they're usually having lengthy conversations while traversing the city. Bonus, this seems like a great opportunity to add a touch of humor into these scenes.
The Smell — Oh, how I loved the smells of Seattle! That city aroma, exhaust and wafting cigarette smoke, mixed with the fresh scent of salt water. With the variety of restaurants lining the streets, one block you might be overwhelmed by the alluring scent of coffee, and the next fresh baked bread or spicy curry. It smelled delicious and wholly unique, the perfect details to add to my story.
Writers, how do you research foreign settings? Readers, are there specific setting details you especially appreciate in books?
What I'm reading: If You Want to Write: A Book About Art Independence and Spirit by Brenda Ueland
What I'm listening to: Bastille — Bad Blood