The Many Flavors Of Books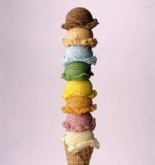 Just like ice cream, books come in an assortment of different flavors. Now, I'm not talking about genre but rather mood, which seems to transcend genre. Here are a few of my favorite reading flavors:
Comfort (chocolate): These books are so happy and fun they always give me a warm and fuzzy feeling. Ironically, I fell in love with a lot of them as an adolescent. Examples: Harry Potter, Ella Enchanted, Anna and the French Kiss, Can You Keep A Secret?
Beach (coconut): Books that keep me entertained while I'm in a happy vacation buzz. They tend to be shorter and more dramatic without getting too intense. Examples: The Legend Trilogy, The Rosie Project, The Thirteenth Tale
Thought-provoking (non-fat frozen yogurt): These reads open my mind or challenge my world view in some way. They can be classics, beautifully written with complex themes, or highlighting a different culture or important issue. Examples: Great Expectations, The Master and Margarita, The Reluctant Fundamentalist, The Reason I Jump
Morning (Ben&Jerry's Phish Food): These books are so emotionally heavy or invoke such horrifying images that I can't read them right before bed. But it's important that I read them, hence I do so when there's plenty of daylight out. Examples: The Shining, 13 Reasons Why, The Immortal Life of Henrietta Lacks
Inspirational (milkshake): These reads make me think anything is possible. They might be traditionally inspirational books or, for me, writing-related books that ignite hope. Examples: The Alchemist, The Secret, Writing The Breakout Novel, Plot & Structure
Like the perfect ice cream sundae, a combination is sometimes best. Which is why I like to read a couple different flavors at one time. If we take this analogy one step further, the sundae toppings could represent the perfect atmosphere: a rainy afternoon with a cup of tea, a glass of wine and a cat purring in your lap.
Now I really must end this post because I have a, uh, meeting with Ben&Jerry…
Do you have different flavors of books? What are your favorite flavors?
What I'm reading: An Abundance Of Katherines by John Green
What I'm listening to: OneRepublic — Love Runs Out